Muwekma Ohlone Tribe of the San Francisco Bay Area
A Brief Historical Overview of
A Previously Federally Recognized Tribe
Mákkin Mak Muwékma Wolwóolum, Akkoy Mak-Warep, Manne Mak Hiswi! We are Muwekma Ohlone, Welcome To Our Land, Where We are Born!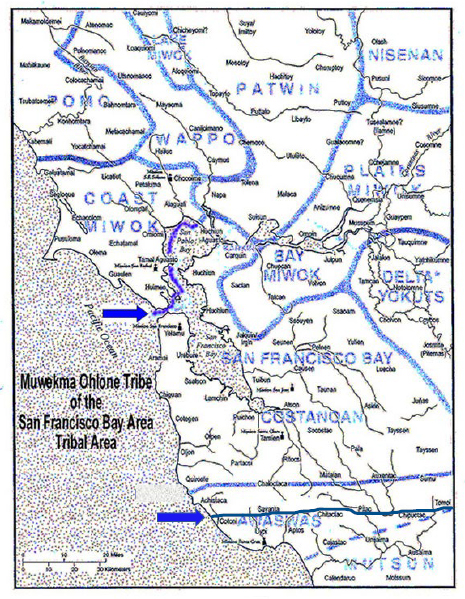 The present-day Muwekma Ohlone Tribe is comprised of all of the known surviving American Indian lineages aboriginal to the San Francisco Bay region who trace their ancestry through the Missions Dolores, Santa Clara, and San Jose, and who were also members of the historic Federally Recognized Verona Band of Alameda County. The aboriginal homeland of the Muwekma Ohlone Tribe includes the following countries: San Francisco, San Mateo, most of Santa Clara, Alameda, Contra Costa, and portions of Napa, Santa Cruz, Solano and San Joaquin. This large Contiguous geographical area, which historically crosscuts aboriginal linguistic and tribal boundaries, fell under the sphere of influence of the aforementioned three missions between 1776 and 1836. The missionization policies deployed by the Catholic Church and militarily supported by the Hispanic Empire, brought many distantly related, and in some cases, already inter-married tribal groups together at the missions.
Comprehensive genealogical analysis of the Mission Baptism, Death and Marriage Records from the three Bay Area Missions traces the surviving Muwekma lineages of the late 19th century through today back to their aboriginal villages. The present-day tribally enrolled Muwekma lineages are represented by the Armija/Thompson, the Santos-piños-Juarez/Colos/Armija. the Guzman/Nonessa, and the Marine-Guzman-Peralta, Marine-Alvarez/Galvan, Marine-Sanchez, Marine-Munoz, Munoz-Guzman, Marine-Arellano, and Marine-Elston/Thompson/Ruano descended families.
Through mission records the enrolled Muwekma lineages have been traced back respectively to the Seunen and Alson Ohlone tribal groups of the southern East Bay region which includes the Fremont Plain to the Livermore Valley, the Chupcan Bay Miwok speaking tribal groups and the Tamcan, Passasimi and Yathikumne North Valley Yokut speaking tribal groups of the interior valleys including the Mt. Diablo, Byron, San Joaquin Delta and Stockton regions, the Jalquin Ohlone (Chocheño) speaking tribal group of the San Leandro/San Lorenzo/Hayward/Oakland region of the East Bay; the Salcan Bay Miwok speaking tribal group from the area east of Oakland including the inland valleys around the Lafayette and Walnut Creek region; and the Napian/Karquin Ohlone tribal group of the Carquinez Straits of the North Bay.
The Jalquin tribal group was a neighboring tribe who lived to the north of the Seunens and families from both of these tribes were collectively baptized at Mission Dolores in San Francisco, While most of the other tribal groups were principally baptized at Missions San Jose and Santa Clara.
One of the direct ancestral lines of the Armija/Marshall/Thompson and part of the Santos/Piños/Juarez/Colos lineages traces back to a direct ancestor named Silvestre Avendano of the Alson (del Estero) Ohlone tribal group. He was one of the first 300 Indians baptized at Mission San Jose after its founding in 1797. Silvestre Avendano later married Perpetua Ssauechequi from the Tamcan tribal group whose territory included the Byron area. Silvestre and Perpetua had a son named Jose Elias in October 1842. Jose Elias had later married another ancestral Muwekma woman Delfina Guerrera sometime around 1866.
Another direct ancestor of the Armija/Marshall/Thompson lineage was Primo Vueslla from the Seunen Ohlone speaking tribal group whom originally had villages established within the Dublin, San Ramon, Pleasanton, and the Livermore Valley regions. Primo was born in 1794 and baptized at Mission San Jose on April 2, 1803 at the age of nine years old. Primo later married Remedia Lal-lapa, the daughter of Radegunda Toleppata, of the Chupcan Tribe. The Chupcans' original territory included the concord and Mt. Diablo region. Remedia Lal-lapa was born in 1803 and baptized at Mission San Jose on February 27, 1811.
The descendants of Silvestre Avendano and his son jose Elias Armija, as well as the descendants of primo Vueslla and Remedia Lal-lapa through their granddaughters, Delfina Guerrera Armija and Benedicta Gonzalez piños, are enrolled in the Muwekma Ohlone Tribe. Delfina Guerrera Armija was the mother of Magdalena Armija Marshall Thompson, and Benedicta Gonzalez Piños was the mother of Peregrina Piños Santos and Margarita Piños Juarez.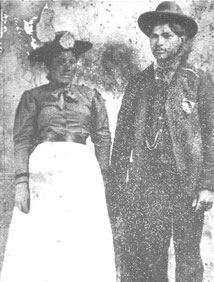 Peregrina Piños (b. 1883) had married George Santos (b. 1876) whose grandparents had been one of the founding families of the Niles "El Molino" Rancheria. Their eldest and only surviving child was Erolinda Santos who grew up in the household of her aunt Maggic Piños Juarez. By the time Erolinda was 15 years old she had met and later married the grandson of Maria de los Angeles (Angela) Colos, who was known by several names. Originally baptized as Joseph Armijo, he was the son of Angela Colos' daughter, Francisca Luccha and Edward Armija.
Six years before Eduardo Armija had married his second wife Chona Bautista, he had a child named joseph Armijo with Franscisca Luccha. Sometime prior to 1889-1890, Eduardo Armija had married by Indian custom Francisca Luccha and they had their son Joseph who was baptized at Mission San Jose in 1890:
1890 Nov 23, Page 264, Joseph Armijo (Garcia/Saunders) (Indian)
Born: Nov 1, 1890
Father: Eduardo Armijo
Mother: Francisca Luccha
Godparents: Antonio Silva & Maria B. Yurrera
(Benedicta Guerrara Piños)
Born on November 1, 1890, Joseph Armija's name was changed to Joseph Garcia by the time he was 8 years old when he was temporarily placed in the St. Joseph's Orphanage as a "half orphan" at mission San Jose. On both the 1900 and 1910 Indian Town Population Censuses for Murray and Pleasanton Townships, Joseph Garcia was listed along with his grandmother Angela Colos.
By 1912, Joseph Garcia had married by Indian custom Mercedes Marine (see Marine lineage below) who was also residing on the Alisal Rancheria in 1910 and they had their only son Joseph Thomas "Tommy" Garcia in 1912.
Mercedes Marine died as a young woman at the age of 19 shortly alterwards in 1914. By that time joseph (Armijo) Garcia for some unknown reason went by the name Joseph Saunders (perhaps a variant of Santos), he had married by Indian custom another Muwekma Ohlone woman, Erolinda Santos. Erolinda Santos and Joseph Saunders had their first child Alfonso (Santos) Juarez in 1914 and he was baptized at St. Augustine's Church which was located one mile from the Alisal Rancheria, in Pleasonton, In 1915, Joseph Saunders and Erolinda had a little girl (Santos) who died within a few months, and by 1917, they had their second son, Daniel (Saunders) Santos who was also baptized at St. Augustine's Church.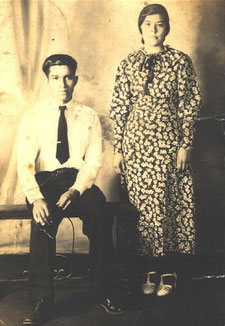 Years later, Alfonso Juarez who had worked for Southern Pacific Railroad in Sunol had married Pauline Navarro and their children are enrolled in the Tribe. Daniel Santos, after serving in the 41st infantry Division in the Pacific Theater during WW II, never married. Both Alfonso and Daniel had lived in Newark and worked at Leslie Salt Company.
Maria de los Angeles' (Angela Colos') ancestry has been traced through her own oral recollections through Santa Clara and San Jose Mission records. Maria was the daughter of Zenon (a neophyte from Mission San Rafael who was probably of Napian/Karkin or Choquoime ancestry), and Joaquina Pico (Whom Maria thought was a Tamaleño –Mt. Tamalpais), who has young woman is raised by the California Pico family and who later worked for the Bernals on their Santa Teresa Rancho in south San Jose.
Later Joaquina Pico settled in San Lorenzo (Perhaps) living on the san Lorenzo Rancheria). After the departure or death of her husband Zenon, a Koriak (Tribe) Russian man, named Gregorio Colos, lived with Joaquina and helped raise her children and they took on his surname Colos. Sometime around this period, when joaquina was living at San Lorenzo, an Ohlone Indian named Santiago Piña became Angela Colos stepfather and taught her the Chocheno language.
According to Maria de los Angeles' (Angela's) own account to John Peabody Harrington, she was born on the ranch of Don Agustin Bernal in Santa Teresa, south San Jose.
Angela informed Harrington that she learned to speak Chocheño from her stepfather, Santiago Piña, and his parents. Based upon the work of Randy Milliken, Santiago's lineage had been traced through the Mission San Jose baptismal records. Santiago's parents were Bruno and Fermina. Bruno was born 1796 and listed as an 'Estc' referring to the Taunan Ohlone Tribe of the Alameda Creek and Del Valle Creek Drainages (Sunsol/Pleasonton). Fermina was born 1801 and was identified as a Luccha (Ohlone) and this may explain why Angela's daughter Francisca retained the same Luccha.
The Luccha Ohlone Tribe was located around the del Mocho/Corral Hollow Creek drainages of Livermore. Santiago Piña was born July 11, 1819 and raised by the Californio Piña family. Angela's mother Joaquina Pico was apparently raised by the Pico family living in San Jose and she eventually moved to the Bernal Rancho in San Jose, where Angela was born. Mission Santa Clara records indicate that Angela's parents, Zenon and Joaquina, were married at the Mission in 1838. Joaquina was listed as a neophyte from Mission San Jose.
1838 October 16, #2711, Zenon & Joaquina:
'En 16 de 8bre be 1838 en la Yglecia de esta Mision…case y vele a los siguientes…A un Neofito (orginario de la Mision de S[an] Raf[ae]I y recidents en el Rancho de los Vernales) [Bernals] llamado Zenon con una Neofita de S[an] Jose llamada Joaquina."
Maria de los Angeles was born between 1839 and 1840 and she was baptized at Mission San Jose in 1840.
1840 Feb 2, #7774, Maria Asuncion de Los Angeles [Mission San Jose]
Born nina nacida en cl Rancho de S.Ramon
Father: Zenon
Mother: Joaquina
Godparents: Anacleto
By 1876, Maria de los Angeles Colos (Who was then a widow) had married her next husband Joseph Thomas Matcos.
1876 June 8, #281, Page 76, Volvono et Colos (Indigeni)
"A.D. 1876, die 8 Junil, Rev. J. Valentini mat jinxit Joseph Thomas Matthaeum natam annos circiter 40, ex Francisco Volvono et Maria Rufina, et Maria los Angeles Colos, Viduam Joannis, natam annos circita 35, ex Zenone et Maria Joaquina coram Petro Antonio et Johanna Maria."
On the 1880 Federal Census for Murray Township, Alameda County (District 26), Angela Colos was identified as Sincion, Anchaline, (Asuncion, Angeline) Indian, age 30. She was listed as a widow and living with her daughters, Francisca (Luecha), Indian, age 14 (b. ca. 1866), Juana, Indian, age 11 (b. ca. 1869), Louisa, Indian, age 6, Rita, Indian, age 2. Angela and her daughters were living eight houses away from Antonio Bernal, Jr. near Pleasanton.
Angela Colos and her grandson Joseph (Armijo) Garcia later appeared on the Indian Population Census of 1900 for Murray Township, Alameda County as Uncela Carlans (Angela Colos). Joseph Garcia was identified as 9 years old and born November, 1890. Angela and Joseph were living on the Alisal Rancheria next to Phoebe Inigo along with her daughter Mary Guzman, Magdalena Armija Marshall and her niece Carrie Calista peralta. They were also living several casitas away from Joseph's godmother, Benedicta Guerrera Piños.
Angela Colos continued to appear on the Pleasanton Alisal Rancheria with her grandson Joseph. They were listed on the 1905-1906 Special Indian Census conducted by California Indian Agent C. E. Kelsey. Kelsey identified them as "Angela Colos and grandson". They were living next to Maria Trinidad Gonzales Reyes and Miguel Santos.
Angela Colos and Joseph Garcia later appeared on the 1910 Indian Population Census called "Indian Town" in Pleasonton Township, Alameda County. They were living next door to Captain Jose Antonio's widow Jacoba who was the Mayen (female Captain/Chief or wife of Captain/Chief) of the Tribe. Residing in Jacoba's household were Catherine Peralta (Marine), Catherine's husband Dario Marine, her daughter Beatrice Peralta (Marine), her sister-in-law Mercedes Marine and Frank Guzman.
From 1902 to the 1920's Angela Colos served as a Chocheño speaking linguistic consultant to Alfred L. Kroeber (U.C. Berkeley) , C. Hart Merriam, Charles E. Kelsey, James Alden Mason and John Peabody Harrington (Bureau of American Ethnology). She provided rich linguistic and cultural information to John P. Harrington along with Jose Guzman and other members of the Verona Band/Muwekma Tribal community. Angela was one of the last fluent speakers of the Chocheño Ohlone language.
Another major Muwekma lineage includes the Marine families who are descendants of Avelina Cornates and Raphael Marine. One of the direct ancestors of the Avelina Cornates and Raphael Marine. One of the direct ancestors of the Avelina Cornates Marine was Liberato Culpeese (born 1787) of the jalquin Ohlone and Saclan Bay Miwok speaking tribal groups whose territory was located in the East Bay centering around the South Oakland, San Leandro, Hayward, Castro Valley, Walnut Creek, Lalayette, Danville and Concord area of Alameda and Contra Costa Countries.
Liberato's father was Faustino Poÿlemja who was born ca. 1764 and baptized at Mission Dolores on December 18, 1794. Faustino Poÿlemja was listed as being from the 'Chanclanes' tribal group. According to Milliken's (1995) mission record research the Chaclanes were the same tribal group as the Saclanes whose territory included part of the Mt. Diablo/Walnut Creek area. Liberato's mother was Obdulla Jobocme who was born ca. 1766 and baptized at Mission Dolores on May 17, 1802 at the age of 36 years. Obdulia Jobocme was identified as being from the jalquines tribal group.
It was into the complex and rapidly changing world of the emergent Hispanic Empire that Liberato Culpeese, at the age of 14 years old, was baptized on November 18, 1801 at Mission Dolores. Seven years later on October 16, 1808, Liberto Culpecse had married his first wife, Catalina Pispisoboj. Her mother was Narcisa Toleeiu who was from the Habasto (Aguasto) Coast Miwok speaking tribal area of eastern Marin County. Catalina's father was Guecue Patavio who was born c. 1754. He was baptized at Mission Dolores on December 13, 1794 at the age of 40. His baptismal record (SFB # 1631) identified his tribal group as "Jutchiunes" and stating that the tribe's location was "del nordeste de la Mision llamados Jutchiunes". The Jutchiunes or Huichiun Ohlone speaking tribal group occupied the San Pablo Bay, Richmond and Oakland areas. Guecue died at Mission Dolores and was buried there on April 25, 1806. Catalina Pispisoboj died on October 16, 1811.
After the death of his wife, Liberto was allowed to relocate to the Mission San Jose region, where he met his second wife, Efrena Quennatole. Efrena Quennatole was from the Napian/Karquin Ohlone speaking tribal area whose tribal territory straddled both sides of the Carquines straits. Efrena was born in 1797 and baptized at Mission San Jose on January 1, 1815 at the age of 18 years. Father Fortuny married Liberato and Efrena (who by then was a widow) at Mission San Jose on july 13, 1818. Liberato Culpecse and Efrena Quennatole had a son named Jose Liberato Dionisio (a.k.a Liberato Nonessa). Liberato and Efrena later had a daughter named Maria Efrena in 1832, Both Jose Liberato Dionisio and Maria Efrena married other mission San Jose Indians.
Liberato Dionisio's second wife was Maria de Jesus who was the daughter of Captain Rupardo Leyo (Leopardo) and was the younger sister of Captain Jose Antonio. Liberato Dionisio and Maria de Jesus had several children including, Francisca Nonessa (Guzman) born May 7, Yakilamne (perhaps from the ilamne Tribe of the Sacramento Delta region) and they had several children including their youngest daughter Avelina Cornates (Marine). During the late 19th and early 20th centuries, Francisca Nonessa Guzman and Avelina Cornates Marine became the two founding matriarchs of the present-day Guzman and Marine lineages. They, along with the other tribal families, comprised the historic Federally Recognised Verona Band Tribal community residing at the following East Bay rancherias: San Lorenzo, Alisal (Pleasonton), Del Mocho (Livermore), El Molino (Niles), Sunol, and later Newark.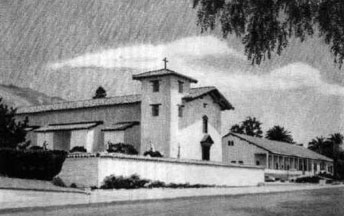 Avelina Cornates (Marine) was born in November 1863 and baptized at Mission San Jose on January 17, 1864. By the late 1880s she had met Raphael Marine, who came to the United States from Costa Rica, but oral tradition indicates that he was originally from Sicily. Avelina Cornates and Raphael Marine had nine children by 1903, six of whom have surviving descendants who are presently enrolled in the Muwekma Ohlone Tribe.
Another important Muwekma lineage is the Guzman lineage. The Guzman lineage is traced back through Jose Guzman's family. Jose Guzman was born around 1854 and died September 1934. Jose's paternal grandparents were Habencio Tuchuachi and Habencia Luitatsme of the Tamcan / Passasimi / Yatchikumne North Valley Yokuts speaking tribal groups from the Stockton region. Their son, Habencio Zapasi was born in 1813, Habencio zapasi later married Petra Coronathe of the Lakisamne and Josemite North Valley Yokuts speaking tribes whom resided along the San Joaquin and Stanislaus River drainages Petra's parents were Nimfador Atchatni (born 1773) and Nimfadora Majalate (born 1786) Jose Guzman was married several times to different Indian women from the Pleasanton and Niles Rancherias.
On May 1, 1876, Jose Guzman had married Angustia Lasoyo, the daughter of captain Jose Antonio and Celsa and had several children with her before she died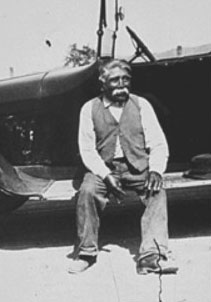 The descendants of Jose Guzman and Angustia Lasoyo through their granddaughter Catherine Peralta and her husband Dario Marine (eldest son of Avelina Cornates), are enrolled in the muwekma Tribe. After the death of Angustia, on May 20, 1881, Jose Guzman married Ambrosia Binoco, the sister of Jose (Joe) Binoco; however all of their children died and left no surviving offspring.
Eleven years later, on August 21, 1891, Jose Guzman had married his third wife, Francisca Nonessa (granddaughter of Liberato Culpecse and Efrena Quennatole) and they had six children together including: Toney Guzman, Alfred (Fred) Guzman and jack Guzman. Both Toney and Alfred Guzman served in World War I and are buried in Golden Gate National Cemetery. The descendants of Alfred Guzman and his wife Minnie Higuera, and Jack Guzman and his wife Flora Munoz (Victoria Marine's youngest daughter) are enrolled in the Muwekma Tribe.
Since 1984, the children, grandchildren and great grandchildren of Dario Marine and Catherine Peralta, Dolores Marine Alvarez/ Piscopo / Galvan. Ramona Matrine Sanchez, Mercedes Marine Arellano / Garcia, Victoria Marine Munoz, Trina Marine / Elston / Thompson / Ruano, Magdelana Armija / Marshall / Thompson, Peregrina Piños and George Santos and Angela Colos (via her grandson Joseph Armijo/Garcia/Saunders), Francisca Nonessa and Jose Guzman have served in leadership positions on either the Muwekma Tribal and/ or Elders Councils.